Thursday's The Big Show 20th anniversary reunion with Dan and Keith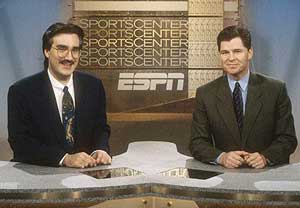 On Thursday, April 5, Dan Patrick and Keith will be at the Paley Center for Media New York to celebrate the day they started The Big Show, the name Keith gave the 11pm ET SportsCenter on ESPN they did together.
Jim Miller, author of "ESPNBook Those Guys Have All the Fun: Inside the World of ESPN" will be moderating the 90 min conversation.
"Twentieth Anniversary of The Big Show: Keith Olbermann and Dan Patrick Together Again
"On the actual day of their first telecast twenty years ago, Olbermann and Patrick will reminisce with author Jim Miller about those pioneering days in sports coverage. Highlights of their work will also be screened, along with questions from the audience. "
http://www.paleycenter.org/2012-spring-twentieth-anniversary-of-the-big-show-keith-olbermann-and-dan-patrick-together-again
The event starts at 6:00 pm. Tickets are available on the website.
For further amusement:
Dan Patrick's radio show can be found at http://danpatrick.com/
Twitter: