MLB Opening Day and tonight: The Big Show 20th anniversary reunion with Dan Patrick and Keith Olbermann
Update: The Paley Center has posted a 9 min  video of Dan and Keith.
—
Here is a nice article about the Paley Center event
:
"They're like brothers with genuine love for each other."
http://www.mediapost.com/publications/article/171966/olbermann-patrick-still-brothers-long-after-espn.html
Follow #PaleyLiveNY for Dan Patrick & @KeithOlbermann event at 6pm ET tonight
—–
Opening Day and Keith is….of course
:
"Josh Thole wearing the #Mets Gary Carter tribute BP shift"
Lot of Carters out there. Somewhere The Kid is smiling broadly #Mets
My friend, #Braves manager Fredi Gonzalez, poses in coach Eddie Perez's uni he warmed up in "just for the heck of it" http://twitpic.com/95ziy8
And another old-timer. Chipper Jones, who has survived 20 years of knowing me (w/ @AndrewMarchand) http://twitpic.com/95zom7
——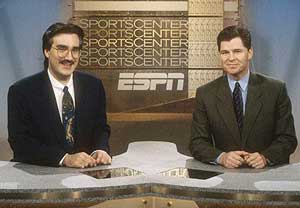 Tonight, Keith and Dan will be at the Paley Center for Media New York to celebrate the day they started The Big Show, their nickname for the 11pm ET SportsCenter on ESPN.
There may be no better coincidence than today being MLB Opening Day, since Dan and Keith are both baseball fans. And The Big Show book also includes Keith's should-be-in-the-hall-of-fame-100 list.
Jim Miller, author of "ESPNBook Those Guys Have All the Fun: Inside the World of ESPN" will be moderating the 90 min conversation.
"Twentieth Anniversary of The Big Show: Keith Olbermann and Dan Patrick Together Again
"On the actual day of their first telecast twenty years ago, Olbermann and Patrick will reminisce with author Jim Miller about those pioneering days in sports coverage. Highlights of their work will also be screened, along with questions from the audience. "
http://www.paleycenter.org/2012-spring-twentieth-anniversary-of-the-big-show-keith-olbermann-and-dan-patrick-together-again
The event starts at 6:00 pm. Tickets are available on the website.
For further amusement:
Dan Patrick's radio show can be found at http://danpatrick.com/
Twitter:
Maybe Mr. Miller is open to fan Q&A. Some fans will attend this historic occasion. I'll try to get them to write down their experience.
Live tweets:
For those at the Paley Center event with Dan who thought I was kidding about walking home: I wasn'ttwitpic.com/9639co

— Keith Olbermann (@KeithOlbermann) April 5, 2012
Very very large moon up there (second largest object next to my head) twitpic.com/9639ir

— Keith Olbermann (@KeithOlbermann) April 5, 2012